Harper's Bazaar in October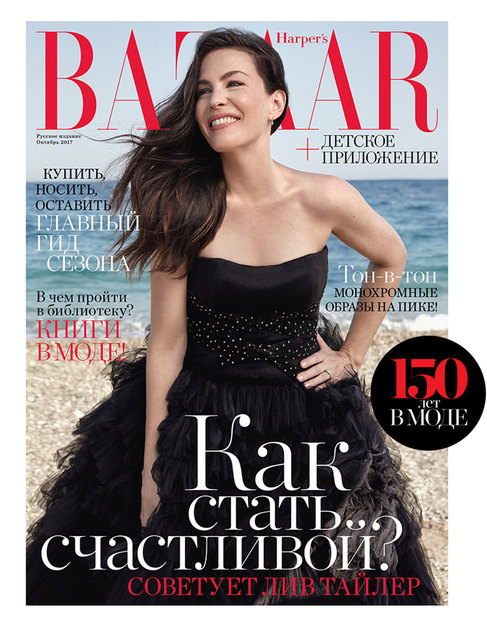 Actress Liv Tyler appears on the cover of the October issue of Harper's Bazaar magazine. In this issue:
Actress Liv Tyler discusses family values and her new projects.
Buy It, Wear It, Retire It: The season's main style guide.
Shadowy Shades: Monochrome hits a highpoint.
A World of Color: This season, we choose pure colors and silhouettes.
What to Wear to the Library? Books are in fashion!
Biblionight co-founder Anna Popova on the future of printed books, and more.
Designer Ermanno Scervino shows the chief editor of Harper's Bazaar around his studio.
Daria Veledeeva and the magazine's beauty columnist, Lyudmila Gukasyan.
Super-Animated: Why nothing is impossible for Soyuzmultfilm head Yuliana Slashcheva.
Columnist Anastasia Uglik on how her favorite animated characters appear on the catwalk.
An interview with Ukrainian designer Lilia Litkovskaya.
Louis Vuitton's new Objets Nomades furniture collection.
Top model Kate Moss and designer Calvin Klein's long, 25-year relationship.
Actress Reese Witherspoon confesses her love for the Wild West.
Actress Irina Gorbacheva on her work on the film "Arrhythmia" and the lack of competition in the Russian film market.
Journal: A guide to cultural events in October.
The magazine has also launched a children's app with articles including:
Children's fashion for beginning and advanced students.
New, Gentle, Best: Insider information on the hottest buys and discoveries of the month.
You Can't Teach Someone to Love: What does it mean to be a parent in 2017?
The best courses, cups, and classes.
The Game is Love: Alexei Belyakov, a father to many children, on why it is so important to play with them – even if you have no free time at all.
The issue is already on sale.