Aliona Peneva to Head Cosmopolitan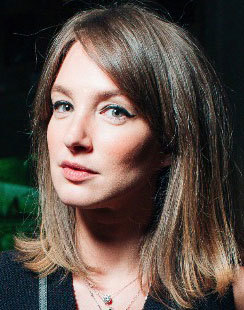 Independent Media publishing house has announced Ms. Aliona Peneva as the head of the editorial board of Cosmopolitan magazine. Ms. Peneva will take on this role in addition to her duties as editorial director of Grazia magazine. The appointment was made as Cosmopolitan editor-in-chief Polina Sokhranova announced her intention to pursue other career opportunities after close to four years with the publication.
"We conducted a search for a new chief editor for Cosmopolitan," Independent Media CEO Maria Komarova said. "In the end we chose someone who was already with us. For 25 years, IM has set the standard for glossy journalism and has always had the best professionals in the media business. That's what made an in-house candidate the best choice," she added.
"Ms. Peneva has successfully run Grazia magazine for the past eight years, and has helped the magazine gain a distinctive style during this time. That is why we are certain she will help Cosmopolitan – the No. 1 women's magazine in Russia – reach the next stage in its evolution. We are very grateful to Polina for her work and wish her success in her further activities. And we wish Aliona good luck and inspiration in her new undertaking," Ms. Komarova said.
Aliona Peneva began her career in glossy publications in 2002 at the beauty section of Vogue magazine. She has worked with Independent Media since 2004 and became the head of the Grazia fashion weekly in 2009.
"It's a great honor for me to lead a magazine with such a history," commented Ms. Peneva said about her appointment. "I hope to prove worthy of the confidence of those who believe in me, and most importantly, not to disappoint the millions of devoted readers of the world's most beloved women's magazine. I am certain that, together with the wonderful Cosmopolitan Russia team, we will not only continue to produce the most forthright, candid, bold, fascinating, and fashionable magazine in the country, but will also scale new heights," she said.
"I am leaving the publishing house with a great sense of gratitude," said Ms. Sokhranova said. "Serving as the editor-in-chief of Cosmopolitan has been an incredible experience and a great honor and joy. This magazine has shown me how important the work of glossy journalists is to their audience and has taught me how to create interesting and professional content at a new level. I hope the publication achieves new victories and creative and financial success," she added.
The Independent Media publishing house has 25 years of experience in the Russian media market. It pioneered glossy publications in Russia and continues to set the standard for glossy journalism and the modern world of multimedia formats. Today, IM has a combined print and digital audience of 40 million, and the largest share of the advertising market among magazines. The company has garnered more than 200 awards for professionalism. The IM portfolio includes titles such as Cosmopolitan, Domashny Ochag, Harper's Bazaar, Esquire, Robb Report Russia, Popular Mechanics, and Grazia.
Cosmopolitan has been published in Russia since 1994. An average of 3.4 million copies of the print edition of the magazine are sold every month, with the result that almost every single woman in Russia has read or seen at least an issue of Cosmo. Cosmopolitan is now more than just a magazine – it is a way of life.