Independent Media in "The Land of Gloss"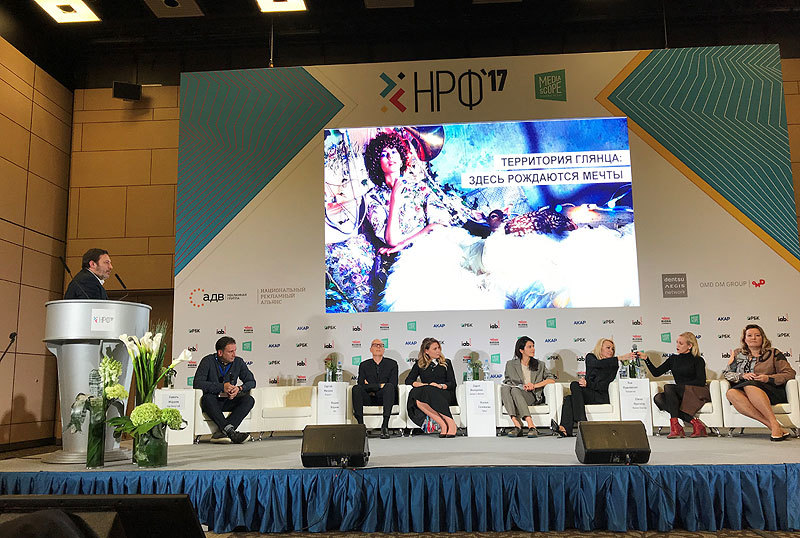 The Independent Media publishing house took part in a panel discussion on glossy publications held as part of a Press Summit on October 31 at the National Advertising Forum. The panel "The Land of Gloss: Where Dreams are Born," was among the best-attended events at the forum, drawing a standing-room-only crowd.
The chief editors of leading glossy magazines took part in the panel, with Esquire magazine editor-in-chief Sergei Minaev moderating. Participants included Daria Veledeeva (Harper's Bazaar), Ksenia Solovieva (Tatler), Ekaterina Mukhina (Elle), Ksenia Sobchak (L'Officiel), The Story Lab executive director Kamal Meriem, as well as producer Yana Rudkovskaya and blogger Elena Krygina.
All the speakers agreed that modern glossies are distinctive for their focus on inspirational material and aesthetically pleasing presentation, but also the quality of their readership that continues to "vote with their pocketbook" by buying high-quality magazines even in an age of free content. "Glossy magazines are purchased by readers who know what they want to read and how they want to spend their money," noted Ms. Rudkovskaya.
The panel also discussed the high quality of journalism in glossies, the level of expertise and the publications' responsibility before readers. "Glossy publications represent a particular level of texts and information," noted Ms. Krygina. "Glossies share more experiences and opinions because every editor personally reviews all of the information for publication," Ms. Mukhina stressed.
But most importantly, as a "generator of desires," glossy magazines provide the necessary and most suitable context for brands and do much more for them – especially for luxury brands – than anything else does. "TV does not sell 'couture' the way glossies do. And only glossies have access to top stars such as Liv Tyler, Jennifer Lopez, Jennifer Connelly and others," Ms. Beledeeva pointed out. Mr. Meriem added, "As for the luxury category, the press looks profitable. It is difficult to find such a clear concentration of luxury in any other environment."