Cosmopolitan in March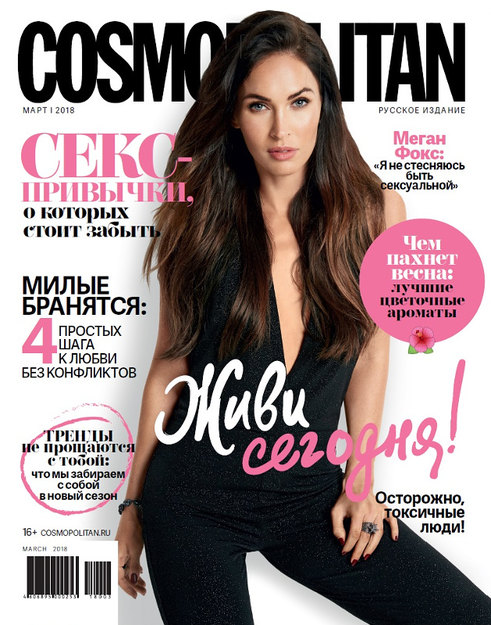 The March issue of Cosmopolitan magazine is double-sided and devoted to change: one side shows what is happening now and the other offers predictions for the future.

Actress Megan Fox, who appears on both covers, speaks about female sexuality, her relationship with actor Brian Austin Green, business, and much more. Readers will also find an article about the return of The League of Champions, a project devoted to Russia's most talented young women.

Also in this issue:

Know the price: understanding the various models of jeans and finding which are right for you;
Clothing trends of particular interest in the new season;
DJ-C: everything about products with vitamin C;
A quiz to help you choose the perfect facemask;
Subtle and feminine: fragrances that are always in style;
In bed with the enemy: which habits in bed irritate both partners;
Instructions for managing quarrels;
Spring trends: denim, pastels, and lots of lace;
The sweet life: blogger Natalia Osmann as a candy girl;
How to withstand toxic people;
The most pressing questions about contraceptives: which, when, and with what to use them;
Everything about water: how to drink and wash without unwanted consequences.

In addition, writer Oleg Roy explains why men now take better care of themselves while women are letting themselves go. Also, editors help you choose a psychologist, name 10 qualities that will help you in your career, and describe travel to Abu Dhabi, the Azores, and Alcoy, Spain.

The issue went on sale February 13.