Harper's Bazaar in March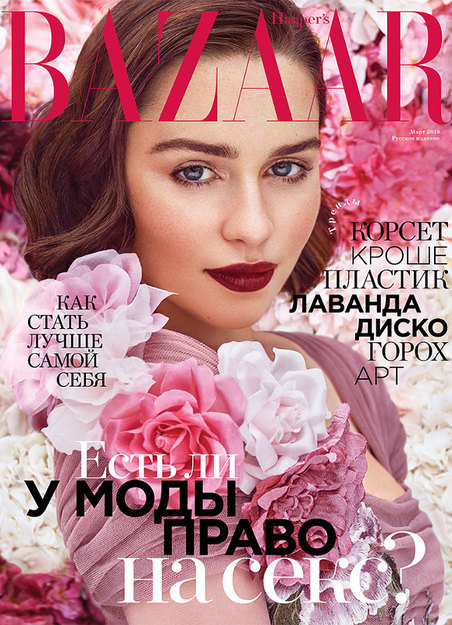 The cover of the March issue of Harper's Bazaar magazine features Emilia Clarke, the actress whose life is followed by millions of fans. Clark strolled the grounds of the Royal Botanical Gardens, Kew with a team from the magazine and spoke candidly of family secrets, the downside to fame, and how sex is the engine driving the television industry.
Also in this issue:
Why not…? Marni Creative Director Francesco Risso on how to diversify your life in March.
Twenty-four hours. Supermodel Cindy Crawford describes one of her typical days.
Power source. Men's jackets, wide trousers, and this season's other authoritative items.
Number 1. Iconic looks opening the main shows of the spring-summer 2018 season in Carine Roitfeld shoots.
Fantasti-Kara. Model, actress, and sometime singer Cara Delevingne has added writing to her repertoire: Harper's Bazaar publishes excerpts from her first book.
Solo for the duo. New faces of minimalism in the first collection by Luke and Lucy Meier for Jil Sander.
Hot reception. Black leather, lacing, corsets, and other ways to overcome apathy in March.
The issue went on sale February 20.
Harper's Bazaar – fashion without rules!