Cosmopolitan in April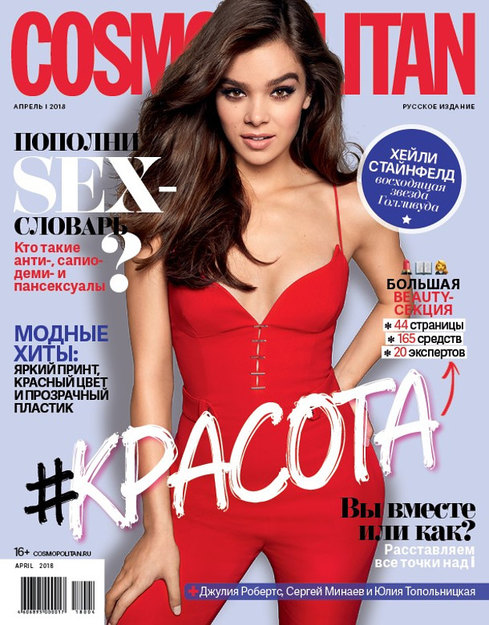 The April issue of Cosmopolitan magazine is devoted to beauty: editors prepared a large section containing expert advice, new beauty products, the latest looks, and much more. Readers will also learn about the best cosmetics of spring: highlighters, bronzers, and berry lipsticks.
Rising Hollywood star Hailee Steinfeld graces the cover. At just 21, she has already garnered both Oscar and Golden Globe nominations. Also – a fashion shoot at the Usachevsky Market: stylish trends in everyday life.
In this issue:
Talk Back: editors and other members of the Cosmo team share what happened to them over the past month.
Personal deduction: editors discovered exactly what is meant by the term "tax deduction."
One reader shares how her lover's criticisms drove her to the psychiatric hospital.
How to know if your relationship has reached a dead end – and what to do about it.
6 new types of sexuality: what polyamories want and how to communicate with litsexuals.
Plastic: one of this spring's wildest trends.
Which type of aging process applies to your skin?
Life hacks: the beauty editors of Cosmopolitan, Domashny Ochag, Grazia, and Harper's Bazaar share their secrets.
Just between us, ladies: when and why to perform labiaplasty.
Businesswoman Polina Kitsenko talks about her health, sports, and beauty.
And don't miss the confessions on the last page: the country's main romances, and Esquire writer and Editor-in-Chief Sergei Minaev writes love letters.
The issue went on sale March 13.