Shopping with the Cosmopolitan Brand: Best Stores Offer Up to 30% Cash Back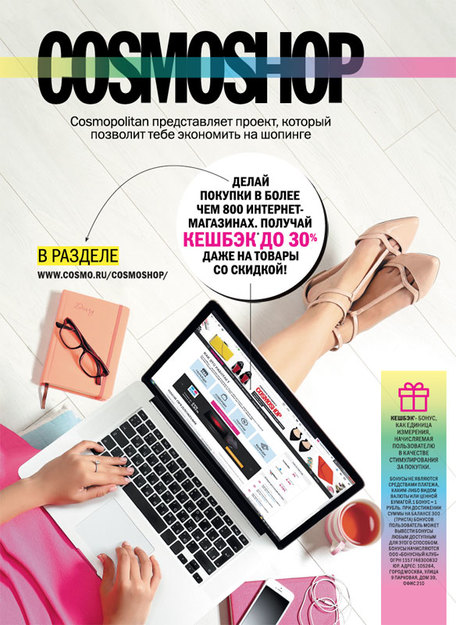 Cosmopolitan launched its innovative CosmoShop project – an online shopping service under the aegis of the most successful glossy brand in Russia. The first such project in the media market, it is creating a new trend in online retail.

Users of the CosmoShop service receive up to 30% cash back from purchases made in the best stores, as well as coupons and invitations to special promotions. The growing number of participating stores has now surpassed 800. Just register on Cosmo.ru to start getting cash back – with the money sent to your bank account, bankcard, or smart phone.

Cosmopolitan group publisher Maria Kolmakova:
"Cosmopolitan is not just a popular women's magazine: it's a way of life – and life is now influenced by new technologies. Online shopping is becoming increasingly popular, with demand growing daily. That is why we decided to bring the best stores together in one location – not on an aggregator, but on one of the most popular women's sites. Our readers love and understand shopping. Now, after reading about the season's new trends on Cosmo.ru, they can immediately find a great buy at a great price – that's smart and fun!"

Total purchases exceeded 1 million rubles in just the first few days after CosmoShop launched. Individual purchases averaged 3,450 rubles, with some carrying price tags in the tens or even hundreds of thousands of rubles.

CosmoShop is advantageous for both buyers – who receive discounts – and stores – that gain access to an audience of more than 17 million people. And this is not just a group of chance users, but a community of active people who are loyal to the Cosmopolitan brand and its business partners, takes an interest in whatever's new in every aspect of life, and that loves shopping.

Readers can evaluate the new service at cosmo.ru/cosmoshop. Detailed information about the service and the purchase terms are available on the project's web pages.