Independent Media Took Part in Gold Print Awards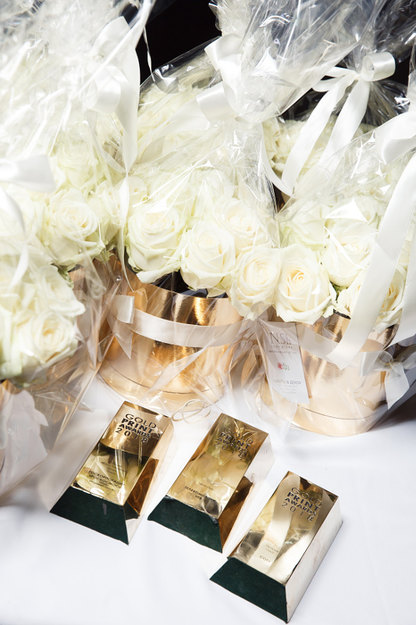 Independent Media (IM) General Director Maria Komarova and Commercial Director Natalia Vesnina took part in the 2018 Gold Print Awards, the second time the national award in the field of media advertising has been presented for projects and achievements by advertisers in print media.
Top managers of the largest advertisers and leading media agencies took part in the event, that was held in the Metropol Hotel on April 5. The approximately 250 guests included Ekaterina Rybakova (ADV), Olga Yudkis (Bosco di Ciliegi), Natalia Verzheiskaya (Wavemaker), Edgar Shabanov (Clarins), Natalia Zhuchkova (M. Video), Polina Trefilova (Dentsu Aegis), Elena Zagranichnaya (Publicis Media), George Shishmanov (L'Oreal), Anna Karpova (Richemont), Maria Kotova (Volkswagen), Alla Verber (Mercury), Massimiliano Nicolini and Danilo Rossi (Scavolini) and many others.
The prestigious award was presented in 15 categories. The NTV channel won the Grand Prize. Maria Komarova presented the award for best media agency to the ADV Group and Natalia Vesnina presented the Scavolini company with the award for Best Interior Segment Advertiser. This year's winning companies included LVMH, Swatch Group, L'Oreal, Hyundai and others.
The largest publishing houses in Russia established the Gold Print Awards in 2017. This year, IM was invited to join the board of trustees for the award. The award seeks to popularize and promote the press as a channel for distributing advertising messages and to provide encouragement to advertisers that regularly place their advertising in print.
Maria Komarova, CEO of Independent Media:
"The Gold Print Awards are an excellent initiative that brings together almost all media market players in a common effort to develop our industry. Traditional media, including the press, are currently undergoing a transformation. In becoming multi-platform, they continue to expand the reach of their brands, using technological solutions for qualitatively new communications with users. But the print version remains the basis of our brands and a major portion of the business. It is their material manifestation, the carrier of unique DNA that forms their image and builds connections with readers and advertisers. Most advertisers know that the press is a highly effective advertising medium, that glossy publications inspire and motivate readers to take action, that ads placed here attract readers and motivate them to make purchases – an advantage the press enjoys over other media. That is why Independent Media was glad to join the Gold Print Awards: despite the difficulty in choosing a winner, it is always nice to thank partners for their cooperation."
Find more information about the awards on the official website
www.goldprintawards.ru
.