Cosmopolitan Kicked Off New Season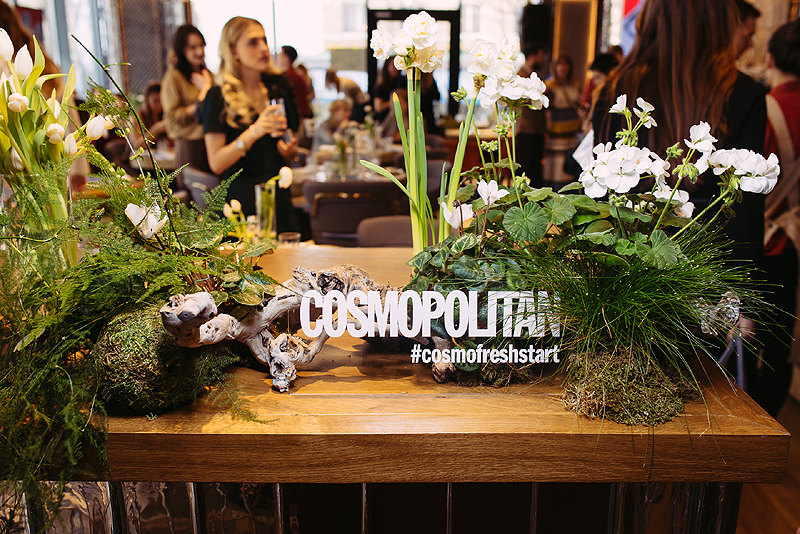 The appointment of Aliona Peneva as Cosmopolitan Editor-in-Chief has ushered in a time of change. The magazine now has a focus on new people, a laconic design, events in unusual formats, and much more. Cosmopolitan brought together its business partners and advertisers at the #SibirSibir restaurant on April 10 to tell them about its achievements and plans for the future.

Aliona Peneva opened the official part of the event – held under the motto #cosmofreshstart – by introducing the cover of the May issue to guests, the identity of whose cover girl had been kept a tight secret for almost two months. The cover was unique in the world history of the Cosmopolitan brand for featuring a pregnant woman: popular singer Svetlana Loboda agreed to pose for an exclusive photo shoot in her seventh month of pregnancy.

The breakfast continued with Cosmopolitan publisher Maria Kolmakova, who joined the team in February, addressing the guests. Ms. Kolmakova noted that Cosmopolitan holds the leading position on the market and compared the brand's total worldwide audience to the number of votes garnered by the winner in this year's presidential elections in Russia. The project continues to expand its audience in Russia, with 23 million people now reading Cosmo magazines and visiting its sites and social network pages.

Ms. Kolmakova also mentioned the main values of the brand, spoke about those for whom the product is created, and screened a video of Cosmo-style mini-interviews with young women shot by Nebo (Sky) film company Art Director Alexei Kiselyov. The interview subjects included both ordinary women and Russian celebrities, including Nyusha, Yulianna Karaulov, Maria Minogarova, Ksenia Chilingarova, Natalia Bardo, Katya Dobryakova, and many others.

The publisher then spoke about new and future projects. Two bold new services – Cosmo Shop and shopping with AI – have already made Cosmopolitan the first media player to move beyond content alone and offer audiences qualitatively new opportunities.

Another large-scale project is the preparation for the anniversary of Cosmopolitan in Russia: in May, the magazine begins a countdown to 25 years in this country. The publication also plans to release a special digital issue in partnership with VKontakte, produce a full-length interview with video blog columnist Arina Kholina, hold a Get Rich course on financial freedom, and even shoot a Cosmo series for the web.

The restaurant #SibirSibir treated guests to a traditional Russian breakfast. Long-time Cosmo partner FlowerBazar provided the interior design for the event.

A number of notables were on hand to learn about Cosmopolitan's achievements and new projects. They included Nadezhda Ivantsova (Hugo Boss), Sergey Zelenkin (Zeldis), Sofia Hofmann (Tom Tailor), Elena Zagranichnaya (Zenith agency), Nadezhda Vartanova (Tous), Ekaterina Letuchaya (Coty Beauty), Lesia Panova and Irina Elizarova (LPI), Sabina Sabirova (Benetton) and many others.