IM Digital Projects Honored with Two Media Manager of Russia Awards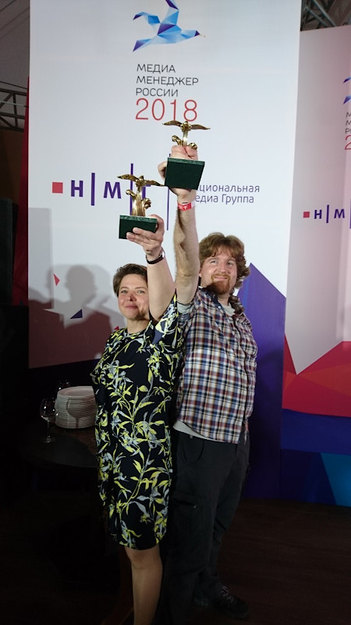 Popmech.ru site Editor-in-Chief Timofei Skorenko and Independent Media Digital Products Strategic Development Director Marina Filatova won Media Manager of Russia awards.
Timofei Skorenko received the award in the Online Media category for having successfully developed the Popmech.ru (Popular Mechanics) site. Under his leadership, the traffic for the site more than doubled in the past year to more than 5 million unique users. According to a Medialogia rating, the site is now one of the Top 15 most frequently cited resources for popular scientific subjects. The awards jury emphasized the educational mission of the site: one of the goals of Popmech.ru is to popularize science, and Mr. Skorenko has himself authored a series of books on this genre.
Marina Filatova won the award in the Advertising and Marketing Communications category for having optimized advertising sales on IM sites, thereby boosting revenues by 46% to 85% in different segments, and for the successful introduction of non-media channels of monetization – particularly for launching projects that took Cosmo.ru beyond the usual media boundaries. One such project is the Cosmo Shop marketplace that enables readers to make purchases in more than 800 stores with cash back of up to 30% without leaving the pages of their favorite site, and the other is the innovative Cosmo Look service that employs AI in facilitating online purchases. 
"Independent Media once revolutionized the glossy industry, and now our boldest plans and projects are connected with digital," said IM CEO Maria Komarova. "We have introduced several unique projects on our digital platforms in recent months that are virtually unparalleled on the media market. At the same time, we have maintained the same high quality of content on our Internet platforms that is traditionally associated with our print magazines. The fact that our digital projects have been recognized for both their content and commercial dimension two years in a row indicates that the new IM strategy for reformatting the business model has been successful," Ms. Komarova said.
The Media Manager of Russia award is given to top managers in the media, advertising, and PR industries for professionalism and the most significant achievements in the media business. This year, the awards ceremony was held on the evening of July 5.
Independent Media managers have won the award on multiple occasions. Past laureates include Derk Sauer, Tatiana Shalygina, Tatiana Lysova, and others. In 2010, Elena Myasnikova was named one of the 10 top media managers of the decade. Last year, Ekaterina Velikina, Editor-in-Chief of the women's cluster of IM sites, won the award.