Grazia Holds Fashion Voyage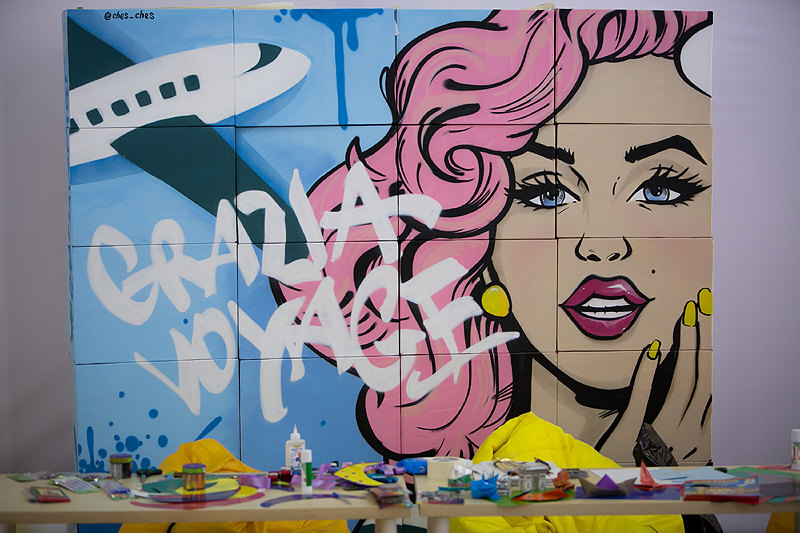 Grazia magazine and the Fashion Season shopping gallery held a summer festival for readers. The Grazia Voyage event on July 28 offered guests a full day of promotions in boutiques, interesting public talks on traveling, workshops, and free beauty procedures.

The first floor of the shopping gallery was divided into four thematic zones: Russia, Europe, America, and Asia. In the Russia zone, the Ski Dreams charitable project presented a special collection of T-shirts. All proceeds will go towards rehabilitating and socializing people with disabilities.

Nearby, make-up artists from Divage decorative cosmetics provided fashionable make-up applications for a perfect Saturday night out. In the Montifiori corner, the company's chief bartender revealed the secrets of making a refreshing drink and treated everyone to samples.

In the Europe zone, Bronze & Beauty specialists provided free hair styling and Dior make-up artists plied their craft for guests. Vegan sweets and natural smoothies were available in the Holy Basil Café culinary corner.

In the America zone, facebar experts of the Paese brand of decorative cosmetics held express make-up sessions. In the Asia zone, the Rani Royal Company invited guests to immerse themselves in the atmosphere of sweet aromatherapy and taste honey containing essential oils. A Daviani brand professional gave professional hairstyles to all comers.  

 In a special children's zone, face painting artists transformed younger guests into anime characters, origami experts taught children how to fold paper into various shapes, and facilitators taught girls how to create the traditional Russian head dress (kokoshnik) of their dreams.

Throughout the day, guest speakers in the public talk zone shared their travel experiences. Food blogger Igor Kun and Grazia site editor Ekaterina Nechkina spoke about culinary trends in Russia and the world. Russian race car driver Roman Rusinov talk about how and why he became a "reluctant traveler," his work-related trips during the racing season, and the difficulties of flying to new locations every week.

Travel blogger Yulia Novosad revealed the secret of what to do when a restless child is your main traveling companion, actress and photo model Anna Belis shared her experiences searching for work and self-actualization overseas, and beauty experts Kristina Ri and Daria Bogomolova spoke about their favorite brands and the products that anyone visiting the U.S. should always bring home.

And finally, Ulyana Borisova and Viktor Kondratenko, creators of the Zaryad.studio space and Holy Basil Café, TV host Anna Zvizhinskaya and founder of the Al-Mask school of modern aromatherapy Rani al-Anati organized a discussion about Asia as a source of inspiration, the practice of yoga, and the story of how aromatherapy came to the Russian capital.