Cosmopolitan Holds Get Rich Forum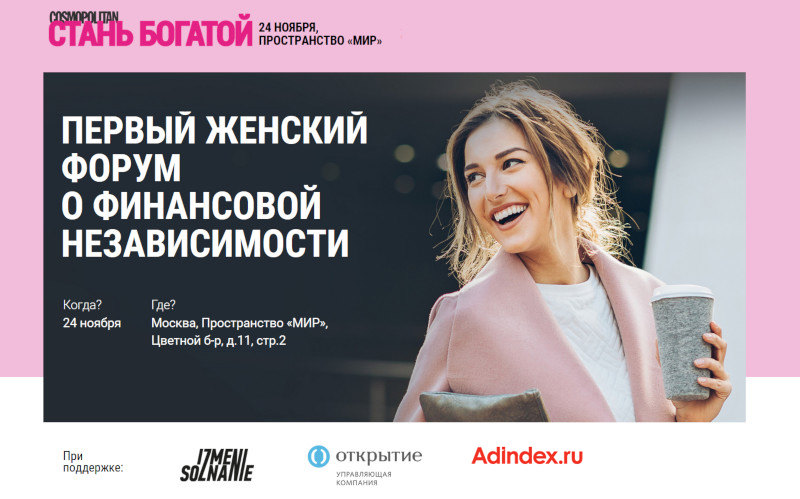 Cosmopolitan will hold the first women's event for financial independence, the Get Rich forum, on November 24. More than 30 speakers – recognized experts in their fields and successful women – will tell the audience how to realize their talents, achieve their goals, and, of course,  achieve financial independence. The project is supported the IzmeniSoznanie agency, the Otkrytie management company, and the AdIndex.ru information portal.

The Get Rich project was created by women for women and is designed to help them learn how to earn more and manage their finances properly. The Cosmopolitan forum will offer the first clear and comprehensive talk about finances. The speakers will include financiers, psychologists, business consultants, journalists, and businesswomen.

The first of the forum's two blocks is devoted to success stories and motivation. The second looks at investments, startups, and business management. The speakers include Cosmopolitan Editor-in-Chief Aliona Peneva, Harper's Bazaar Editor-in-Chief Daria Veledeeva, business trainer and author Irina Khakamada, World Class President Olga Slutsker, television host Elena Letuchaya, Okrytie management company General Director Viktoria Denisova, ANS Lingua translation agency Director Anaa Reznichenko, Pop Up Museum founder Irina Nikolskaya, restaurateur Dina Khabirova, and others.

In addition to the forum, the Get Rich project includes an application written in clear language and with practical financial tips that was released in conjunction with the November issue of Cosmopolitan. The Cosmo.ru site now also includes a Get Rich section.

The Get Rich forum will be held on November 24 in the Mir space on 11-2 Tsvetnoy Bulvar in Moscow. The event will be streamed online.

Learn more about the forum program and speakers or buy tickets at the site richandbeautiful.cosmo.ru.