Cosmopolitan Beauty Day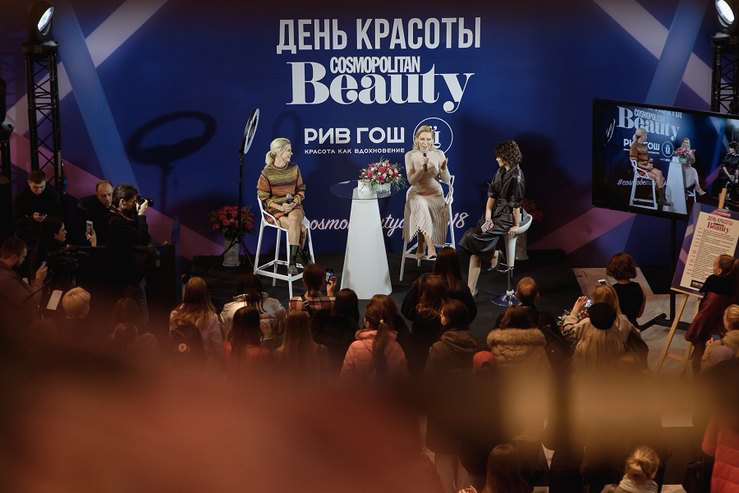 Cosmopolitan Beauty magazine, in partnership with the Rives Gauches chain of perfume and cosmetics stores, held its eighth Beauty Day. The event was staged on November 10 in Moscow, St. Petersburg, Kazan, and Rostov-on-Don.

The Future of Beauty served as this year's Beauty Day theme. Animators in futuristic costumes, an astrologer, numerologist, contact juggler, and musicians playing the saxophone, tank drum, theremin, and hang. Throughout the day, guests could participate in workshops held by image artists from famous brands and meetings with beauty industry representatives.  

Cosmopolitan Beauty Editor-in-Chief Yulia Lapshina offered the opening remarks at the event in Moscow. That was followed by a public talk with actress Natalya Bardo and TV host Aurora. Next, Cosmopolitan Beauty editor Tatiana Katysheva spoke with singer and TV host Klava Koka, and singer Anatoly Tsoi, actress Alina Alexeeva, and actor Dmitry Miller discussed the newest line from Paco Rabanne.

At the Beauty Day event in St. Petersburg, an artist from Leningrad Center and Keiko Li, a participant in the Dances project on TNT television and the Dance program on Channel One, spoke with Cosmopolitan Beauty editor Alisa Drobot about everything connected with make-up and personal care for TV and the theater. After that, Setters communication agency art director Alina Chichina told Ms. Drobot how to create and maintain a successful Instagram account.

Guests at Beauty Day events in each city were treated to shopping discounts of up to 50% on their favorite beauty products. The most active shoppers received gold cards from Rives Gauches and accessories from the Lady Collection. The Lindt brand distributed complimentary sweets and Sacred Source handed out free water.