Esquire Heroes: How it Was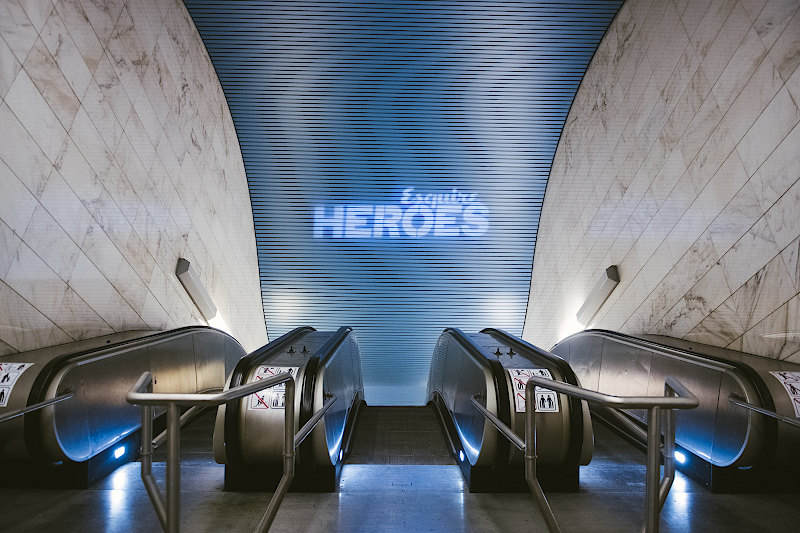 The Esquire Heroes party was held at the as-yet-unopened Delovoy tsentr (Business Center) metro station in Moscow on March 22. The event was devoted to the most striking individuals of 2019, according to the magazine.
The traditional Esquire Apostles project was expanded this year.  In addition to the 12 individuals featured in the March issue—modern apostles from different fields—the Esquire.ru site singled out nine more headlining heroes from the new wave of rap music. Esquire presented all of them at its metro party.
Esquire Editor-in-Chief Sergey Minaev opened the official part of the evening. He spoke about each of the apostles and presented the Esquire Headliners project—about the best of the new wave of rappers—that will launch on Esquire.ru on March 26. Next, headliners 044 rose, Boulevard Depo and Big Baby Tape performed for the guests.
Then the action moved to the subway cars where the Esquire apostles performed. Writer Yevgeny Babushkin read short stories, journalist Ivan Survillo held open interviews, and artist Yevgeny Granilshchikov presented his project "Milk." Musician and director Alexander Kuznetsov, who did temporary duty on the escalator, spoke about Esquire Heroes.
The Business Center metro station was divided into several zones. In the Crocus City Mall zone, visitors could relax to a DJ set by Yegor Kholkin. In the Nike zone, guests studied an installation by artist Sasha Frolova who offered a new interpretation of air in the urban space. The Certina watch brand, as an Esquire Heroes partner, created a zone where guests could have their photos taken.
Roman Kovalishin, founder of the Visionar design bureau was responsible for the event's concept and design. The Shakirova Studio handled set design for the evening.