20 Years With You!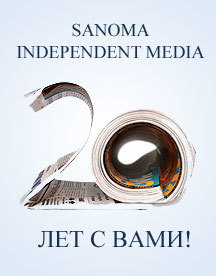 Sanoma Independent Media publishing house celebrates its 20th anniversary in 2012. That might be a relatively short time by human standards, but it is a major achievement for a business.
It all started in March 1992 with The Moscow Times newspaper, Russia's only daily English-language newspaper. Two years later, the company launched Cosmopolitan as the first glossy magazine in Russia — a pioneering achievement that paved the way for numerous other magazines that followed.
After the success of those initial projects, SIM launched several more publications in rapid succession that quickly took leading market positions. They include Domashny Ochag, Harper's Bazaar, Men's Health, Yes!, Vedomosti, Popular Mechanics, Robb Report, Harvard Business Review, Esquire and many others. Not content to work in print media alone, SIM is developing Internet and digital projects, a Custom Publishing division and many other projects.
Over the years, the publishing house has become the largest player in the Russian glossy print market. We have much to be proud of: Our managers, journalists and publications have repeatedly been recognized as the best in their fields and have earned numerous distinguished awards. We have set records, pioneered new technologies, now command almost one-fourth of the Russian glossy advertising market and have won over millions of readers who have placed their faith in us throughout these years.
In this anniversary year, we would like to address all of those who have traveled this road alongside us: our readers, advertisers and business partners. Thank you for staying with us!
20 facts about SIM:
The publishing house is Number 1 in the Russian glossy market;

The Sanoma division is the leading European media holding company;

Retaining 1,116 employees with an average age of 34;

SIM business partners include Hearst Corporation, Rodale, Mondadori, The Wall Street Journal, Financial Times, The New York Times, National Geographic Society, Curtco Media Labs, Viadeo and the International Herald Tribune;

It holds Russia's largest portfolio of glossy magazines;

11.3 million readers in Russia;

Commands 52 percent of the glossy publication audience;

Readership has increased by 269 percent over the last 10 years;

Five SIM magazines have readerships greater than 1 million;

It draws 25 percent of the advertising revenues in the glossy market;

Cumulative circulation of 50 million copies;

Five SIM publications have repeatedly been sales leaders;

Trendsetter in new forms and formats for glossy publications;

A pioneer in the use of Publishing 360° innovative strategies and digital technologies;

13.5 million Internet users monthly;

Managers and publications have received more than 100 achievement and excellence awards;

Recipient of Media Manager of the Decade award;

Winner of the Employer of the Year and Dream Employer for Young Professionals awards;

Holder of 2 Guinness World Records;

Raised more than 20 million rubles for charitable projects.