Svetlana Sokolova: "May a fair wind of good fortune fill your sails with fresh ideas"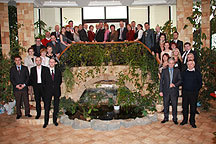 Dear Friends!
Please accept heartfelt congratulations from me and from the entire Rospechat staff on the occasion of your 20th anniversary year.
Twenty years of dynamic development has made Sanoma Independent Media one of the biggest players in the European media market. From the first release of The Moscow Times until the present day, Sanoma Independent Media has successfully implemented over 50 projects with a combined readership of more than 12 million. Those were outstanding years of continuous success and hard work.
We are certain that this is only the beginning of your professional accomplishments and that you will not be content to stop here. We wish you new creative thoughts, dedicated co-workers, accommodating business partners and loyal readers. May you continue to be buoyed by your boundless optimism, perseverance and prosperity, and may the fair wind of good fortune fill your sails with creative ideas, enabling you to navigate the heavy storms of the media market with ease.
Respectfully,
Svetlana Sokolova, CEO
and the staff of Rospechat