Arjan De Jongste: "I wish you prosperity and continued success!"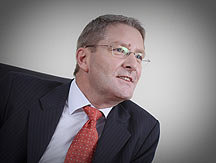 Dear Friends,
I warmly congratulate Sanoma Independent Media on its anniversary!
Over the course of 20 years, your publishing house has become a reliable source of information on politics, economics, business, travel, beauty and personal development. The hallmark of Sanoma Independent Media has been and remains its professional approach to presenting information and its objective assessment of issues and trends, thereby helping readers make informed decisions in business and everyday life.
People with a wide range of interests are regular readers of your publications — the numbers of whom are increasing as a result of your individual style and relevant information. The magazines, newspapers and Internet portals have themselves come to reflect the latest events and trends.
On behalf of Philips and myself, I would like to wish the publishing house staff endless inspiration, scintillating ideas, creative success and new projects. I am certain that Sanoma Independent Media will continue to set the standard for Russian and international journalism by maintaining its high level of style and independent judgment.
All the best,
Arjan De Jongste,
General Director of Philips in Russia and the CIS