Men's Health In St.Petersburg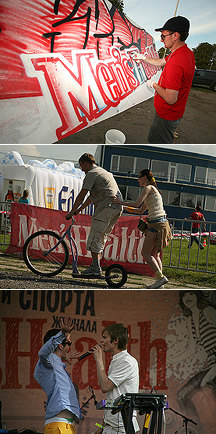 About 3000 readers of Men's Health from St. Petersburg gathered on June 28 at the Rechnoy yacht club on the Petrovskaya Embankment to celebrate the 10th anniversary of the magazine at the Festival of Music and Sport. Perfect sunny weather, a positive atmosphere, excellent music and various contests made the 7-hour event unforgettable.

DJs Elkashu, Deev and Panin entertained the guests, along with Russian bands Yogo Togo and Punk TV, Egitronic from Germany and Lo-Fi-Fnk from Sweden. They received a warm welcome from the audience.

The final of the first pan-Russian cycle-custom convention Kustom Groove Bike was held on the small stage. The owners of the coolest bikes received prizes and presents, and all the guests could test-drive the bikes. While some of the of the bikes looked more suited to the circus than on a road, there were also rastabikes, which fit in perfectly with the festival's general atmosphere. Flammable Beats DJs Chagin and Vinilkin were creating the musical atmosphere while the guests played Frisbee, darts, petanque and streetball, rode zorb balls and watched parkour performance.

Water activities included water zorb balls. Those who could manage them received prizes from the magazine. There was also a show of professional wakeboard surfers and water bike riders. Many yachts were attracted by the music and they came alongside to join the festival. The evening was concluded by the performance of DJ Yaponets, who made everyone, including the most phlegmatic guests, dance like crazy.

The Festival of Music and Sport in St. Petersbug was supported and promoted by: radio station Maximum (represented by hosts Vasya Kovalev and Yura Pashkov), the first alternative music channel A-One, social network MoiMir@Mail.Ru, and ActiveSport company - the first St. Petersburg sports shopping centre. The latter is a huge 2-storey mall which sells clothes, shoes and equipment (all by the best brands) for all kinds of sport and goods for fishing and hunting.

The magazine would like to thank the festival's partners and guests. A detailed picture report will be published in the September issue of Men's Health.