Grand Watch Has Won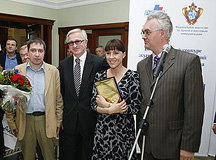 Grand Watch, a radio program that is a joint project of Vedomosti and the Ekho Moskvy radio station, recently won the "Honor Above Profit" in the "For contribution to constructive dialogue between business and authorities" category.

On the photo from left to right: Maxim Trudolyubov, Alexander Shokhin (RUME), Olga Bychkova (Ekho Moskvy), Yury Pulya (Federal Agency of Publications and Media Communications).

The program Grand Watch is available in audio and video versions.