60 000 Kilometres With National Geographic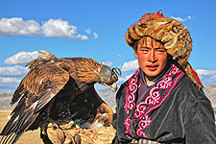 The open adventure East-West open adventure expedition started on June 23. It will cover 60 000 kilometres in 5 countries, and participants will spend the entire 165 days of this voyage with its information sponsors: National Geographic Russia and National Geographic Traveler.

The mission is to promote active lifestyle and leisure, cultural tolerance and interest in the world, as well as share information about international sights, nature and Eurasian nations. The route goes through the deserts Gobi and Takla Makan, Himalayas, Tyany Shany, Karakorum and Altay, Mongolia, China, Nepal and Kazakhstan.

The magazines NG Russia and NG Traveler are providing information on the expedition at their websites. Once the expedition is over, the magazines will publish unique pictures taken during the voyage.

The magazines will be present at the press conferences in Saint Petersburg, Moscow, Samara, Kazany, Ekaterinburg, Novosibirsk, Tyumen and Barnaul. They will also participate in the shooting of a documentary about the expedition which will be later shown on main and satellite channels. In spring 2009 NG Russia and NG Traveler will organize a photo exhibition in 8 Russian cities.