Tatiana Lysova Is Russian Media Manager 2008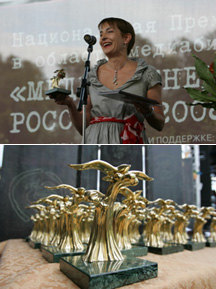 Tatiana Lysova, editorial director of ZAO Business News Media, won the 7th Annual National Russian Media Manager 2008 award.

She was nominated for "Editorial Management of Business Editions of Independent Media Sanoma Magazines Publishing House" in the "Paper Media/Newspapers" category.

Tatiana is in charge of strategic content development of all Business News Media projects: the newspaper Vedomosti, Vedomosti Friday weekly, website Vedomosti.ru, analytical weekly SmartMoney, monthly supplements to Vedomosti - How to Spend It magazine, Real Estatе: Business Walls, Real Estate: Residential, Real Estate Abroad, newspaper Vedomosti College, and annual magazines Private Investor Guide and Career Climber Guide.

One of Tatiana Lysova's major achievements as editorial director of Business News Media was the new design of Vedomosti, which has been issued in full color since May 16, 2008.

Publishing House Independent Media Sanoma Magazines and ZAO Business News Media were nominated for numerous other awards at the Russian Media Manager contest (positions are dated to the time of the award):


2001 - Mikhail Dubik, editor of Vedomosti newspaper, nomination "Paper Media/Newspapers";

2003 - Elena Myasnikova, chief editor of Cosmopolitan, general director of Fashion Press, member of board of directors of Independent Media Sanoma Magazines, nomination "Magazines";

2005 - Derk Sauer, chairman of Independent Media Sanoma Magazines board of directors, Grand Prize;

2005 - Tatiana Shalygina, distribution director for all Independent Media Sanoma Magazines publications, nomination "Distribution".

Tatiana Lysova was born in Moscow. She graduated from the Moscow Institute of Radiotechnics and Automatics in 1991, specializing in applied mathematics. After graduation Tatiana worked as a system programmer. In autumn 1994, she started her media career as a correspondent for the Kommersant Weekly business newspaper. In summer 1995, Tatiana joined the team of Expert weekly founders, where she worked for 4 years. Then she was hired by Vedomosti.

At Vedomosti, Tatiana was an editor of the Energy Resources section, then the first deputy chief editor, and in spring 2002 was appointed publishing editor. In December 2002, Tatiana became chief editor of Vedomosti newspaper. In April 2007, Tatiana Lysova was appointed editorial director of ZAO Business News Media. She is married, and has a son and a daughter.