The First Yes! Beach Party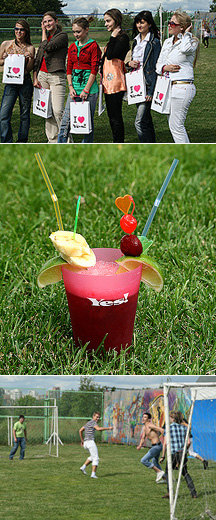 The magazine Yes! opened the summer season with its first beach party, which took place this Thursday. Though the weather left much to be desired and the sky was rather cloudy, the party was a success. It was hosted by Alexey Vorobiev. The guests were so hot that the ice in their glasses with special Yes! cocktail would melt in seconds!

The party began with some physical exercise - a game of football on the grass. The People's Choice award went to the team of the party's host. After the match, guests continued to have fun by taking part in various contests judged and hosted by Alexey Vorobiev. Speed team competitions were so funny that everyone was exhausted from laughter.

Happy and smiling - and carrying huge bags with presents from Sela and Build-a-Bear - the guests went to the stage, where Alexey sang a few of his songs. Soon MTV VJ Timur joined him. He said hello and passed the microphone over to a wonderful r'n'b singer - Yasha. Traffic jams could not prevent Brigada U from radio station Europa Plus from coming. Jam, Tanya and Ilya talked, gave autographs and took pictures with their fans.

The party's atmosphere was in the hands of DJ Saltykov, who represented the Fenix Creative Group school. And although original Yes! cocktail is alcohol free, the guests were so excited that only a promise to meet next week could cool them down. See you next Thursday!

The parties take place at SuperBeach.
The informational partner of Yes! beach parties is social network MoiMir@Mail.Ru.