From Top Ten To Cover!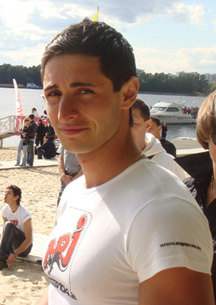 The final stage of the "Get To Top Ten" contest (a joint project of Energy 104,2 FM radio station and Men's Health) took place on June 7 as part of the "Street," a jubilee Music and Sport Festival organized by the magazine. The Top Ten winners will be on the cover of Men's Health.

The readers of Men's Health and the audience of radio Energy have been sending their photos for five months. At the end of each month two winners were chosen by voting. The final was set for June 7, when ten finalists would compete for the main prize. Unfortunately, two finalists couldn't come to Moscow, but they received consolation prizes anyway.

The final consisted of three contests: the contestants had to stay on a bull's back as long as possible, then show surfing skills, and after that hammer out the dynamometer. The jury (chief editor Aleksey Yablokov, art director Vlad Ryabinin and publisher Margarita Tyrina) chose the winner, who would be on the cover of Men's Health.

Alexander Dzidaria aka Sanchesss was named the winner. He is a reader of the magazine. Alexander leads a healthy life, and works as a doctor. Apart from the photo shoot, he received a Picture Mate 100 full color printer as a special prize from Epson.

The readers will see Sanchesss on the cover of October's Men's Health. The other finalists of the contest "Get To Top Ten" received consolation prizes: subscriptions to the magazine, exclusive sportswear designed especially for the 10th anniversary and t-shirts from radio Energy, not to mention public admiration.

See detailed photo report at the website of Men's Health.