National Geographic and NG Traveler Birthday Party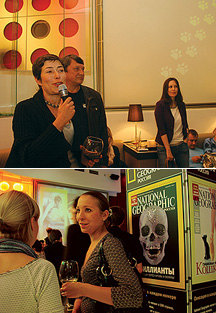 On May 22, legendary magazine National Geographic its spin-off, National Geographic Traveler, celebrated their Russian birthdays. This year, the anniversary came in time with the global premiere of Indiana Jones and the Kingdom of the Crystal Skull, whose protagonist is probably the most well known of fictional travelers. The magazines decided to celebrate their birthdays by watching the film at the Romanov premium class cinema.

The party began with a film about National Geographic-s mission and a buffet where guests than Andrey Dubrovsky, chief editor of the magazine, and Elena Myasnikova, director general of Independent Media Sanoma Magazines, gave a speech praising the achievements of National Geographic as well as paying tribute to National Geographic Traveler, which has reached a circulation of 100 000 copies in just one year and is now one of the most popular travel publications in Russia.

At the end of the speech, Andrey Dubrovsky invited guests to take seats in the hall and start watching the new adventures of Indiana Jones. After the film, guests were offered refreshing exotic cocktail appetizers based on Midori liquor and premium French lemonade Lorina, as well as exquisite brandy from Louis Royer, followed by main and dessert courses.

The birthday party was simply wonderful, and next year the magazine will conquer new peaks and attract more travelers.