Men's Health Celebrates 10th Anniversary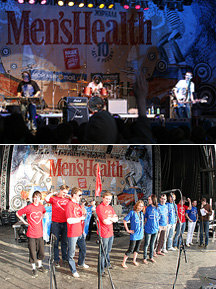 The Moscow Music and Sport Festival organized by Men's Health was a success: a perfect location, fine weather and a wonderful atmosphere all came together for an unforgettable event. More than 6000 readers came to Beach Club at Vodny Stadium on June 7 to celebrate the 10th anniversary of the Russian edition. Seven bands entertained the guests: SKAlpel, Kaberne Denev, Fruktovy Kefir, Punk TV, Bumbox, Leningrad and Noize MC. When Leningrad was performing, all guests sang together with the band. And Noize MC freestyle was also supported by thousands of fans.

One of the most spectacular shows was at the street culture area. Famous Moscow DJs from Flammable Beats were accompanying performances by yo-yo and diablo professionals One Day More. Graffiti team True Style painted a wall 20 meters high, which instantly became a popular sight for taking amateur pictures. As for professional photos, guests could make them at the Epson stand.

The beach was full of life. Guests took part in contests with various prizes from the magazine, played Frisbee and watched a Tornado sailboat regatta - the first city regatta of beautiful twin-hull boats in Russia. Nine crews from various Russian regions took part in seven double regattas, with the Moscow crew winning the competition.

Photos from the festival will be published in the August issue of Men's Health. The magazine is preparing for the same festival in St. Petersburg, which will take place on June 28 at the Rechnoy yacht club, located in the Petrovskaya spit.

Information partners of the Moscow Music and Sport Festival of Men-s Health: radio station Nashe Radio, the first alternative music channel A-One, national social net Мой Мир@Mail.Ru.