A Present for Anglomaniacs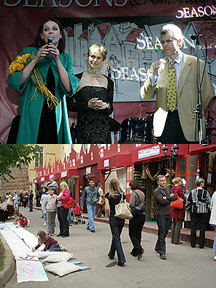 AngloMania is a new project of Seasons magazine dedicated to the English lifestyle. From May 17-23, the courtyard of the Shusev Architectural Museum was turned into a cozy London square. The stands of the exhibition's participants were designed to resemble the facades of various London interior design shops.

The subject of AngloMania was classical design and historical manufacture. William Morris, traditional china, gold-plated wallpapers and decorated fabrics were the main topics for discussion and admiration. Designers and architects, decorators and amateurs took part in master classes led by celebrated English interior designers. They disclosed secrets about silk and golden ornaments, classical design and window decorations, and much more.

The lawn of the museum's courtyard was also Londonized during these seven days. Visitors could walk on the grass and take relaxing sunbaths, using Smart Balls pouffes and colorful plaids for additional comfort. City Catering took care of the waiters, who brought Ahmad tea and Black Velvet whisky was directly to the visitors. Design school "Details" organized an open air lesson of dйcor accompanied by a picnic with punch.

Children were happy running around the exhibition. Just for them, Arseniy Epelbaum and his theatre "Teny" organized a "mad tea party" based on the famous scene in "Alice in Wonderland." In the evening, young actors recited Shakespeare while visitors would dance to the sounds of Beatles and U2, construct carton London and watch British films. The event was a hit and it will definitely be repeated.