The Moscow Times Helps Children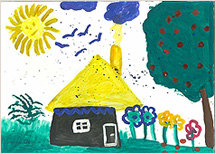 The Moscow Times has launched a charity program called Sotvori Sebya (Create Yourself), which is aimed at helping children with disabilities. The children-s drawings and photos are placed at the program's website www.sotvorisebya.ru. Each child will receive a present - a picture album with his or her creation in it.

The project's goal is to prove that children with any physical condition can make progress, be creative and lead an active social life. The participants are children aged 5 - 14.

The project includes the following:

Website with pictures and information about the participants and partners;

Drawing and photo contest;

Exhibition of those pictures and photos;

Publication of the photo album (each participant will receive a copy as a present);

Press conference (presentation of the album);

Fundraising for children with limited abilities.

Sponsors and individuals can donate money by checking the information on the website. All charity organizations can take part in the contest by sponsoring a child. Organizers will help upload contest materials to the website.

Partner of the program is CAF (Charities Aid Foundation).