SmartMoney Investor Academy: Successful Start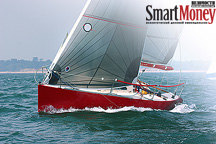 The first Investor Academy conference organized by SmartMoney took place on May 23 at the Ararat Hyatt hotel. The event was dedicated to private investor opportunities in the global stock market. Many well known investment banking experts, heads of management companies and independent investment consultants made their reports at the conference, among them Evgeny Gavrilenkov from Troika Dialog, Ovanes Oganisyan from Renaissance Capital, Mikhail Khabarov from Alfa Capital, Evgeny Dankevich from FK Otkrytiye and financial consulting guru Isaac Becker.

Editor Ekaterina Son said that the magazine has always been focused on investment as the key issue of any economical process, and that was why the conference project started with private investments topic.

Reporters spoke about private investments with respect to global economy analysis and in view of a possible financial crisis and its influence on Russian economy. Evgeny Gavrilenkov suggested that although the Russian economy was expected to show stability, he nevertheless had paid special attention to the features distinguishing the upcoming crisis. The other reports were about various investment ideas and directions at Russian and global stock markets, the best strategies for private investments and practical investing issues.

More than 100 participants took part in the conference. They were top managers with high income and notable social status, such as Sergey Vasiliev (director general of Video International) and top executives from Bazovy Element, Mosenergo, Norilsky Nikel, Surgetneftegas, Ernst & Young, Rusobornprom, Sovlink and others.

The format of the conference was smart-breakfast. Reporters and participants enjoyed an exquisite breakfast, while the audience took active part in the discussion and SMSed questions to the reporters.

As one of the participants noticed, the conference was both interesting and useful.

'Now I can advise my wife where she shall invest', he said.

There will 4 more conferences held by SmartMoney this year as part of the Investor Academy program: Real Estate (19 June), Product Markets (25 September), Structural Products (24 October), and Top 7 Investment Strategies (4 December).