New Cosmo Magic Year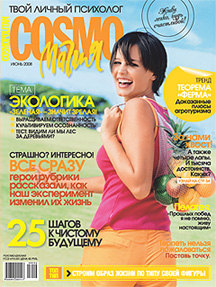 This June, Cosmo Magic celebrates the first anniversary of the "Your Personal Psychologist" format. The year was full of events and ideas, many of which were made reality. And we can say today that the re-launch was a success!

In just twelve months the magazine has become an acknowledged expert in psychology, and it was highly awaited by readers. Every day the editors receive many thankful letters from those who had found useful psychological advice by psychoanalysts and other professionals.

'Last year we changed everything: concept, design and even our logo', says chief editor of Cosmo Magic Svetlana Gulyaeva, 'The readers welcomed the changes instant. Professional psychological advice is quite a new thing for Russia; however, everyone needs this advice every now and then. The magazine is your personal psychologist, it helps to solve the problems and find a nice reason to be happy every day. Our slogan is "Take it easy and be happy!"'

Professional society has acknowledged the new status of the magazine. TV channel TNT invited Svetlana Gulyaeva to take part in the talk show Intuition as an expert. At the same time the magazine has hired well known psychologists, writers and public figures, such as Darya Dontsova, Diana Arbenina, Valery Panushkin, Tatiana Ustinova and many others.

In 2007, the Cosmo Magic website offered visitors a service called "Ask the Psychologist", which became very popular. There are also sections called "Become the Protagonist" and "Suggest a Subject" that help the editors to check interesting topics with readers. The services help to create useful and profound content for the magazine and make up new sections.

The changes have also found favor with advertisers. Worldwide brands are now placing their advertisements on the pages of Cosmo Magic. The June issue was created together with Always - it had a Moon calendar for the next twelve months.

Celebrations went on with the Club Of Psychology Amateurs. On May 23, the Club organized a meeting in one of the Las Knigas supermarkets, which was attended by Anna and Sergei Litvinov (June columnists) and psychologist Ekaterina Miroshnichenko (permanent expert of the magazine and website). Together with the readers, they wished Cosmo Magic all the best.