Let's Kite? Yes!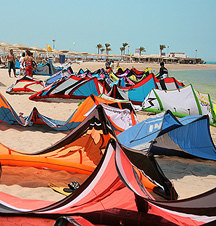 Yes! is continuing to hold events dated to celebrate the 10th anniversary of the magazine. Yes!GirlZone, an event where readers trained with Russian kite-surfing champion Svetlana Turchina took place on May 3-11 in Egypt.

Yes!GirlZone was created especially for young ladies who would like to combine vacations in Egypt with extreme sports. During training, the participants had an opportunity to learn a fashionable and trendy kind of sport, not to mention traditional seaside activities, such as sunbathing and swimming. To enroll in the school, the girls had to register at www.yes.com.ru. The school was also promoted on the mail.ru website and on radio station NRG.

The training (theory and practice) was carried out according to the international kite-surfing system. Each day started with surya namaskar exercises. Yoga helped the girls to prepare their emotions and warm up their muscles for further surfing, while group training helped them to overcome feelings of insecurity and fear.

The students of Yes!GirlZone received gifts from Roxy on each day of the event - in the airport, at the hotel, at Yes! parties and contests, etc. When the training was over, the teachers evaluated their students, checking both theoretical knowledge and surfing skills. All girls finished the "beginners" level and received corresponding IKO certificate.

The organizers have big plans regarding kite-surfing training. Preparations for next season's course are already underway. Yes!GirlZone teaches girls to wipe the toughest kite-surfers' eyes and have fun! It is an illusion that board and parachute are too unladylike. In fact, it is not that difficult to find a way with the waves, especially when you are in Yes! company.