The Moscow Times at Night Of The AdEaters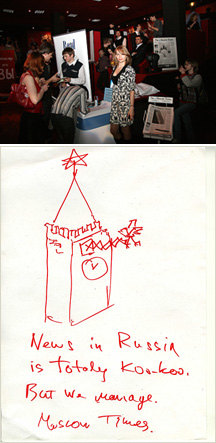 The Moscow Times was the general information partner of Night Of The AdEaters, which was held in Moscow on April 25. The newspaper, together with Fujitsu-Siemens, organized a special creative campaign called "Draw an Association with The Moscow Times and Receive a Present". More than 100 guests shared their wonderful ideas and received computer mice, flash cards, T-shirts from The Moscow Times and restaurant guides Dining Guide.

Night Of The AdEaters has been a successful event for almost 30 years now, and now takes place in 50 countries. Today this cult project is held in more than 40 Russian cities.

The Moscow version was truly special. First, there was a video block dedicated to Russia showing Russian citizens viewed by international ad companies, giving the Moscow public a glimpse of how international viewers see Russia. Secondly, there were shown video-winners from SATCAR (festival of car advertisements) - amazing night rallies, tough curves, brake chatter together with jazz and raindrops on the windshield, feelings and rainbows, dreams and subtle emotions.

Apart from that, football videos from all continents were shown at the event. Another surprise was the sexiest commercials by Jean Marie Boursicot.

The advertising agency Twin Media was the organizer of this event. The partners were Hennessy Cognac, Organization of United Nations, Givenchy, Limousine Service and others.