National Geographic At Day of Earth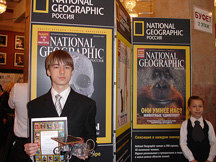 National Geographic Russia took part in the second Russian Earth Day festival, which was held on April 29 in the Rossiya concert hall. The first time the festival was held in Moscow was in 2007, when it was highly commended by the European Council and UNESCO. The festival was registered at the International Earth Day Network movement (www.earthday.net), which holds annual events in more than 147 countries.

It is the first time that the Russian edition of National Geographic is taking part in the festival,with its ecological and social project called "We Are Responsible for the Planet". The magazine's chief editor, Andrey Dubrovsky, announced the rules of the contest at a press conference on April 28. Invitations to the contest were handed out at the event, which had gathered more than twenty youth ecological organizations. The contest will last until August, and the main prize is a trip to Washington, DC, to the headquarters of the National Geographic Society.

The Earth Day festival has brought about some interesting and prospective projects of several ecological organizations. Hydrogen School Club and its invention of eco-friendly car were awarded with 6-months subscription and special presents. Other organizations, such as students from Polytechnic College ¦39 and activists from the Vorobyevy Hills Reservation Park, as well as the winner of the "Earth Is Our Home" children's drawing competition were also awarded with prizes.