Dombay Adventures of Men's Health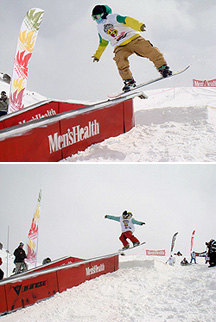 The Men's Health Rail Master jib contest was held on April 8 at the Dombay ski resort, during the Flammable Camp snowboarding base.
Although the contest was postponed a day due to a snowstorm, this didn-t prevent the best Russian pro-riders and qualified newcomers from showing their skills in box and on rail. Sixteen snowboarders qualified in total, to compete for a grand prize of 3000 conventional units and other prizes provided by the sponsors and partners (Tvoya Stikhiya and Dainese protective equipment).
A two hour jam session (during which the boarders have unrestricted number of attempts, of which the best is evaluated) gave the contestants a chance to show their best stuff. Andrey Moskvin was ranked first, Nikolay Golubev was second and Nikolay Grinev came in third. Pavel Alekssev and Denis Leontiev won the pairs competition and received two pairs of elbow protectors from Dainese.
The first Men's Health Rail Master was held last year at Dombay camp, and proved to be a big hit, featuring thousands of spectators, dozens of sportsmen, loud music and plenty of drive. This year the jib contest, which has become synonymous with the Dombay brand name, attracted even more attention. In fact, Men's Health Rail Master actually closed the season in Russia. Popular DJs Denis Simachev and Masha Pirumova from Moscow DJ group Low Budget Family played at the awards.
Read the details at
www.mhealth.ru
and in June issue of Men's Health.