Cosmo Magic: Welcome To The Club Of Psychology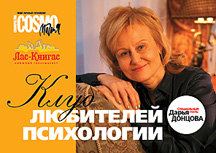 Cosmo Magic, the magazine about popular psychology, is launching a project together with Las Knigas chain of supermarkets. All the readers are invited to the new Psychology Amateurs Club.

If you are interested in the nature of emotions and motivations you can join the discussions with well-known writers and psychologists held in Las Knigas shops each month. The main topic of each issue will be the topic for discussion at the talk show of the Club. The participants who purchase books written by invited authors will receive the May issue of the magazine as a present.

The first talk show of the Club will take place on April 26 at 3 p.m. in Las Knigas shop (43/1 Pererva Str. Shopping mall BUM, 1st floor). The topic of the meeting is titled "Games People Play". The show will be hosted by the editor-in-chief of Cosmo Magic, Svetlana Gulyaeva. Popular detective writer Daria Dontsova (she also pens the "Happiness Exists!" column in the magazine) will talk about rules and their influence, psychological games in life and work, the nature of human behavior and much more. Another guest is the magazine's consultant in psychology Aleksey Setov, expert in NLP and Ericson hypnosis. The readers will have a chance to ask any questions and get the fullest answers possible.

Entrance is free of charge - see you at the Club!