Interni Party in Justo BanDouche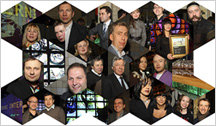 The third issue of Interni magazine was celebrated with a party, which took place March 19 at the club Justo BanDouche. This place is popular among artists, socialites, actors, musicians, art directors, fashion designers and producers.

A unique architectural manga-comic was made, based on the cult movie Chapayev. Video-art by Interni was accompanied by drinks from Courvoisier.

The guests had an opportunity to watch ballet miniatures performed by actors from the Japanese theatre Tamashi. They showed a story of five great warriors of the East who symbolize honor, self-sacrifice and the power of spirit.

By the end of the party the architects in attendance could participate in a quiz called "Do You Know the Works of Le Corbusier?" The main prize was a trip to France, to the places related to the legendary architect, sponsored by Interni.