Yes! Is Opening Kite-surfing School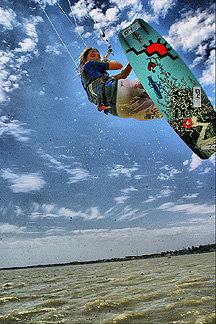 Yes! Continues to celebrate its 10th anniversary with special actions and events. The magazine, together with Russian kite-surfing champion Svetlana Turchaninova, welcomes readers to the Yes!GirlZone kite-surfing school, located in an Egyptian resort on the Red Sea. The opening will be celebrated from May 3-11.

Yes!GirlZone is a kite-surfing school for girls. It is located 10 km north from Hurgada, 12 km before El Guna, near a picturesque lagoon. It gives girls an opportunity to combine vacation with sport. There you can sunbathe, swim in the sea, spend a wonderful time with Yes!, and at the same time learn the extremely fashionable - and just plain extreme - sport of kite-surfing.

Yes!GirlZone provides theoretical lessons and practical training according to the IKo international system of kite-surfing. Every class starts with yoga teacher Suria Namaskar emotionally and physically preparing the girls. Group trainings help to overcome a lack of confidence and fear.

Yes!GirlZone offers sport with presents. Young ladies receive gifts from the organizers from arrival to departure.

Yes!GirlZone will teach the girls all the tricks of kite-surfing so that they could stand up to the toughest kite-surfers and have great fun. Boards and parachutes may seem like unladylike accessories, but in fact, it's quite easy to be on the same wavelength with the sea and the wind, especially if you do it together with Yes!

To enroll, please first register at www.yes.com.ru before April 20. You can also find there Svetlana's blog where you can chat with the champion and ask questions.

The school Yes!GirlZone is supported by promotional campaign starting from April 10 at mail.ru, radio stations NRG and Love Radio.