RB.ru About Middle Class Cars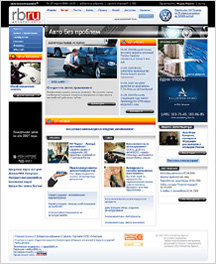 A new RB.ru special project called "Car Without Problems" was launched on April 7. This section is a collection of useful information and advice concerning middle-class vehicles.

RB.ru shows how one can save on car insurance, reduce car credit payments and get easy terms when buying a car. The project includes some interesting ratings: the most unusual cars, the most useless car accessories, and the worst selling cars in Russia. There's also a section titled "Car Stories", where the most interesting and unusual stories are published. The news section tells the readers about the most important events of the car market in Russia and around the world. The articles are accompanied with business references, financial guides, video quotations and polls.

There is also a special test for car enthusiasts called "How Much Do You Spend On Servicing Your Car?" This test calculates the expenses on car fuel, technical service, credit payments, amortization expenses and evaluates, as a result, the daily cost of car maintenance.

Apart from content sections, the project also features sections such as "RB Market", which section tells the readers about companies offering car credits, selling this or that brand and providing lease and repair services. The special "Finance" section publishes the reports of the "Secret Client" about the quality of car insurance companies' services. Famous Russian businessmen tell about their favorite cars and the vehicles they use in everyday life. Blogs and forums dedicated to automobiles are translated on the main page next to the articles. The members of RB.ru community discuss the secrets of Autocasco, traffic jams, gentlemen parking rules and their passion - cars.

"Cars" at RB.ru is another special project of the website. February and March at RB.ru were marked with three holidays: St. Valentine's Day, Day of the Defender of the Fatherland and the 8th of March. Last December, the website created a special project dedicated to New Year. RB.ru is planning special projects about tourism, business education and real estate.