Seasons Turns Five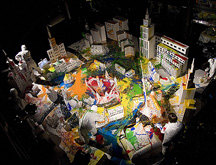 Spring came to Aptekarsky Ogorod on 19 March. Despite the fact that the trees and paths of the old garden were powdered with snow, guests of Seasons magazine were met with the odor of aromatic candles, flaming torches, chirping birds and baskets with primroses on the terrace (floral compositions created by the florists from L'Rose). Shawls and cushions on the benches, hot glintwein dotted with snowflakes, the smell of hyacinths - all this brought springtime to the terrace while the fairytale greenhouse wrapped in black was still surrounded by winter.

Guests and partners of the magazine passed through a black draped corridor to the second floor of the restaurant to watch a unique performance created especially for Seasons' birthday by young graduates of the Dmitry Krymov workshop.

The performance "Listening to Spring" showed recognizable black and images of Moscow in winter. The artists built a city of cardboard with a replica of the Kremlin, the Pashkov House, the Bolshoi Theatre, and skyscrapers. Then a black Moscow River was filled with blue paint and the city became colorful.

The guests showed out the winter with artificial silver snow (everyone was given a pack at the entrance), which they spread over the cardboard city. The black corridor was turned into a colorful collage of crocuses and tulips, which descended from the ceiling and came to life on a transparent plastic canvas painted by designer Julia Velikanova.

The birthday party ended with a dessert of French profiteroles.