Men's Health Goes To Dombay For Adventures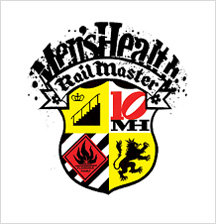 The Men's Health Rail Master jip contest will take place on April 7 at the Dombay ski resort during Flammable Camp, its traditional snowboard camp. The best Russian pro-riders and newcomers qualified at the peaks of Quicksilver Park will compete in two figures (rail and box) to win a substantial prize.
The first Men's Health Rail Master, held last year at Dombay camp, was a big hit, featuring thousands of spectators, dozens of sportsmen, and plenty of music and drive. This year the contest will be even more notable due to the sponsorship of Tvoya Stikhiya (brands Dainese, Billabong, Van Zipper).
Not only do competitors perfect their skills, but spectators get to experience endless thrills and adrenaline rushes. The main attraction, of course, is the best Russian jibber of the year nomination, to be held at the chosen at Men's Health Rail Master on 7 April. DJs Chagin, Pirumov, Gankin and Panda from Moscow group Flammable Family are going to play at the evening awards party.
Read the details at
www.mhealth.ru
and
www.flammablecamp.ru
.