The Moscow Times And Person Of The Year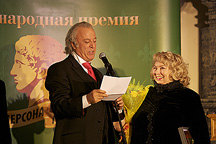 The "Person of the Year" awards ceremony took place in the Petrovsky Hall of the Grand Kremlin Palace on February 20. This year the independent expert board honored 31 people with this highest Russian public award. Among the laureates are famous politicians, businessmen and public figures. The Grand Prize went to Prime Minister Victor Zubkov, the general director of Gazprominvestholding Alisher Usmanov, the general director of Aeroflot Valery Okulov and the chairman of Nemiroff Holding board of directors Alexander Glus.

The ceremony guest-list included vice-premier Alexander Zhukov, Minister of International Affairs Sergey Lavrov, first deputy of Moscow mayor Yuri Roslyak, the head of Russian Postal Service Andrey Kazmin, the general director of Renaissance Capital in Russia Ruben Aganbegyan, the chairman of Troyka Dialog's board of directors Andrey Sharonov, vice-speaker of the Federation Council Dmitry Mezentsev, USSR People's Artist Galina Vishnevskaya, the chairman of WimBillDann David Yakobashvili, member of the Alfa Bank board of directors Alexander Gafin, general director of the Centre of Political Technologies Igor Bunin and other public figures.

The newspaper The Moscow Times was a partner of the event this year. All the laureates and honorary guests received the Moscow Dining Guide as a present.