Kitchen In Details Together With Seasons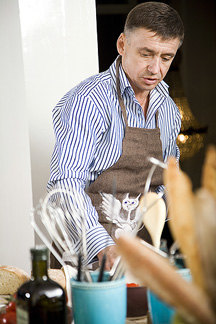 The end of December was marked by the launch of a new course called Kitchen In Details, which is in the Details design school. The magazine Seasons is the informational sponsor of the project.
Kitchen In Details is pure practice and no theory. The project is meant to show the relationship between beautiful and tasty dishes and interior decor.
The project was created by famous Moscow decorator Victoria Blumgren and Details school director Tatiana Rogova. They both think that professional cooking and an aesthetic table layout go hand-in-hand with stylish housekeeping.
The course is dedicated to creative cooking and table layout. The lessons evoke dinners in a country house where people cook and enjoy food together and conversation is accompanied by fine wine. The teachers are chefs from the best Moscow restaurants, food stylists, cooking journalists and columnists, celebrities and devoted practitioners of haute cuisine. The technical equipment is provided by Whirlpool.
The course lasts 4-5 days, and it gives an opportunity to learn new recipes and ideas of table layout.
Anton Tabakov gave the first lesson: he garnished tomatoes with spicy herbs to create an authentic Toscana bruschetta. And soon Veronica Blumgren and Tatiana Rogova will show their cooking talent.
For detailed please go to
www.details-moscow.ru