Russian Winter With The Moscow Times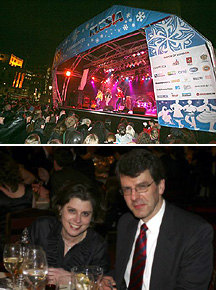 The Moscow Times became a partner of the Russian Winter 2008 festival, which took place in London on January 13. The company Eventica traditionally organizes this event together with the Russian-British Cultural Association, the Russian Embassy in the UK and the City Council of London.

The Russian Winter festival, held in London on the Julian calendar's New Year's Eve (known in Russia as Old New Year), is one of the main cultural events of the British capital. Its one-day program gives Londoners an opportunity to experience Russian culture and get acquainted with Russian national music, craft and cuisine, modern art, pop music and so on.

The festival also marked the first time that thousands of people on Trafalgar square sang the famous Russian national song "Oh, Frost" in karaoke. The organizers also held the "Memories of Russian Winter" flash mob. In response to a command from the festival's host, the participants simultaneously flashed their cameras to take a picture of the moment.

On January 14, the traditional gala dinner "Old New Year" took place in Gildhall. The guests and participants were happy to enjoy another New Year celebration, this time following the pre-Revolutionary Russian Julian calendar. The guest-list was impressive: the Russian Ambassador in UK Yury Fedotov, the Belorussian Ambassador in UK Alexander Mikhnevich, top-model Natalia Vodianova with her husband lord Justin Portman, Viacheslav Nikonov from the funs "Russian World", football players Alexey Smertin from Fulham and Alexander Gleb from Arsenal, jewelry designers Stiven and Asya Webter, pop stars Irina Toneva and Alexandra Savelieva from the group Fabrika, Boris Zimin from the fund "Dynasty", musician Maxim Pokrovsky from the group Nogu Svelo, TV presenter Marianna Maximovskaya from REN-TV, Dmitry Tarasov from Lukoil, Mark Dunhill from Faberge, journalists Kirill Dybsky and Natalia Kalashnikova from Itogi magazine, Dmitry Gubin from Robb Report, Albert Popkov from Odnoklassniki.ru, Maxine Maters from The Moscow Times, designer Andrey Barteniev and many others.