Special Cover of Men's Health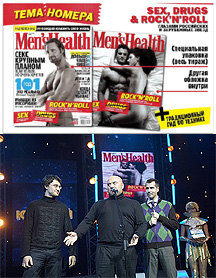 The double cover of September's Men's Health was awarded with the "Cover of the Year" special prize in the "Anniversary" awards. The ceremony of the "Cover of the Year 2007" international contest took place in the House of Music on December 3. Men's Health, which is celebrating its 10th anniversary this year, took part in this contest for the first time, and the debut was more than successful.

After the official part the chief editor Alexey Yablokov and art director Vlad Ryabinin performed a dance show titled "The Effect of Men's Health". When the journalists asked them about the name of the show, Alexey Yablokov said that they were showing the effects of reading Men's Health, which are positive emotions and new ideas.

Alexander Shokhin, Garegin Tosunyan, Artur Chilingarov and many other well-known political, governmental and social persons were present at the ceremony. The guest-list included showbiz celebrities, businessmen, journalists from the leading media, TV and movie stars like Maria Shukshina, Vladimir Kuzmin, Sergei Lazarev, Irina Allegrova, Anita Tsoi, Julia Savicheva, Oscar Kuchera, Mark Rozovsky, Alexander Kurlyandsky, Peter Krasilov, Evgenia Krukova, Victor Drobysh, Zhanna Epple, Mikhail Kozhukhov, Vera Sotnikova and many others.

There were 11 nominations in the contest aimed to choose the best of the best editions, both ordinary and online. There were also special nominations, such as "Debut of the Year", "Anniversary", "Breakthrough of the Year", "B2B", "The Most Charismatic Business", "Event of the Year" and many others.