Yes! has Chosen "Face of the Year"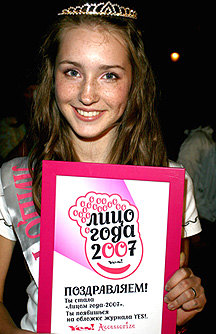 On September 19, while celebrating its birthday in the Hermitage Garden, Yes! magazine was named the winner of the "Face of 2007" contest. The general partner of the event was the company Accessorize.

More than 5000 guests came to congratulate the magazine. DJ Sasha Vibe was entertaining readers, who could take part in the creation of the new magazine cover. Special recreational zones were constructed on the territory of the park so that guests could have a good time.

Many stars were invited to the party: the pop bands Korni, Chelsy, Premier Minister, Tair Mamedov and Alexander Nezlobin from the Comedy Club, Sasha Savelieva from Fabrika, reality show host Ksenia Borodina, Alexei Vorobiev, Potap and Anastasia Kamenskikh, Lera Masskva, Maxim Nedalchenko from Street Jazz and many others. Some of the star guests were on the jury of the "Face of 2007" contest.

Ten girls were chosen by Yes! and Accessorize to compete in the final. Olga Bogdanova from Moscow became the face of the year for 2007. The main prize was the shooting for the cover of Yes!, and a golf lesson in a country club, the latter sponsored by Accessorize. The other nine finalists were also awarded special prizes.