Power, Speed, Drive by Men's Health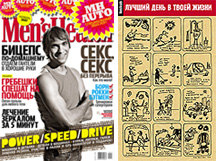 Men's Health continues to publish special issues. The November issue is called POWER, SPEED, DRIVE - and naturally, it is dedicated to cars.

Contents:

The main auto show of the year is held in Frankfurt. Since the best way to get rid of the autumn blues is to buy a new car, Men's Health is offering its readers a whole range of interesting novelties.

A luxurious Rolls-Royce Phantom was taken apart. Find the answer to why this pile of metal costs 13 mln roubles on the pages of November issue. Sensation from Ford Focus: Russian details of the legendary American brand.

Russia is leading in European jeep sales. That is quite logical, for, as the saying goes, roads are one of the two biggest problems in the country (the other being the fools driving on them). Our journalist decided to prove the saying wrong by conquering Altai on a UAZ Patriot. Long live the Russian automobile industry!

The Russian climate demands eight tires for just one car. It's high time to change your tires for winter. Read Men's Health for everything you need to know about winter tires.

You have a car and baseball cap with the logo of your favourite auto company. Now think about some tuning and aerography. But don't be too fanatic about it, for it may lead to some mental problems. Men's Health made a list of the car freaks of the world. Some people give a name to the vehicle, others put their out-of-work cars on the walls.

A car can take you almost anywhere, but it also can defend you. Read all about armored cars in this issue as well.

Also in the issue: a poster depicting the best day in your life.