RB.ru Presentation was a Hit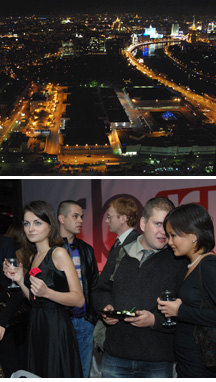 On September 20, partners and friends of the business website RB.ru gathered together to celebrate the successes of its first days of operation. RB.ru is a new mass medium for office people. It is an independent online edition, a source of useful information and a business-community in one. The project RB.ru was launched on September 1. A gala presentation was held at the Federation tower, which is now the highest existing building in Europe.

More than 400 people were invited to celebrate this event.

The height made the heads of the spin. Before the presentation began, the guests had a small excursion about the sights of Moscow on the panoramic view platform of the 57th floor. There were no clouds in the sky, so the guests could see many interesting details, and the musical ballads (which were played even in the elevator) contributed to the event's celebratory atmosphere.

The main hall was a little lower than that, on a separate floor divided into six thematic sectors named after corresponding sections of the website. The creators of RB.ru define its format as "business network". The information offered to readers corresponds to the basic needs of the office business community. Employees need to be well informed about events, to receive the information for their work and further professional development, to communicate at professional and human level and to make a break. There are six information blocks at RB.ru. News, Business Directories, RB.ru Professional Community, Career, Finance and an absolutely special section called Office Life. Each section was presented by comic attractions. In the "News" section the guests could try their news presenting skills. In "Business Directories" they found a know-it-all person who could answer any question related to business. Anyone could take part in games on development of command spirit in the "Community" section, and "Career" offered a career horoscope. The section "Finance" was presented as a casino, and the prizes were converted into bonus displays of commercials at RB.ru. "Office Life" was full of paparazzi who tried to expose the true professional vocation of the guests.

Songs by Leonid Agutin, delightful decline and friendly chat made the evening unforgettable.