The Second Special Issue of SmartMoney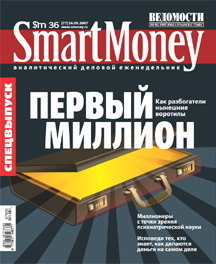 The second special edition of SmartMoney "The First Million" was released on September 24. Readers will be fascinated with success stories of the most fabulous Russian businessmen, who became super-rich in the '90s. Also read about various business opportunities that help your income grow faster. Another topic is millionaire psychology: the changes brought by money.

This issue is the second in the series of monthly editions of SmartMoney, the first of which was published in August 2007. Each edition of the series is dedicated to one of the most important subject of the Russian business community. Exclusives, profound analysis and versatile opinions on the problem, unique ratings, charts and diagrams on the central double page - all that can be found in these special editions.

All the special editions are supported PR and the promotional campaign under the slogan "SmartMoney: Profound Analysis, Interesting Subjects" on TV (Euronews, BBC World), radio (City FM, Business FM, Silver Rain), on the Internet and at the top sales spots.