The Third Issue of Prime Traveller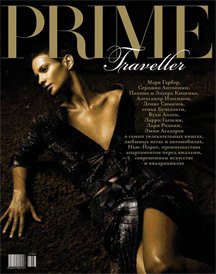 The most popular international artists are coming to Moscow: Damien Hurst, Jeff Koons, Cecily Brown and many others. Mysterious Larry Gagosyan, the biggest art dealer on Earth, who generally avoids interviews, shares his ideas about art and business exclusively with Prime Traveller. The co-owners of Podium, Polina and Eduard Kitsenko, show their beloved treasure - sailing yacht Tiketitoo - for the first time. They have invited the Prime Traveller film crew on a short trip to Sardinia. Former expert in narcology and now senior partner of Fleming Family and Partners Mark Garber talks about the advantages of traveling with friends. He denies Prime Traveller's assumption that the masterpieces of his were made by not quite sober artists.

You will find many other interesting things in this issue. The co-president of Chopard, Karl Friedrich Scheufele, tells the readers where he orders his shirts in London. Veronica Belotserkovskaya gives her recommendations on vacations in Monaco. You will see New York City through the lens of Richard Berenholtz and learn what inspires the designer Lori Rodkin. Also read about marriage, find out why an apartment is better than a house and have a look at the interiors of the most luxurious $20 000-a-night suites.