95 000 millionaires are reading Vedomisti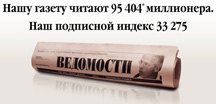 On September 3, Vedomosti started a new promotional campaign with the slogan "95,404 millionaires are reading Vedomosti".

The newspaper asked Magram Market Research agency to find out how many of its readers have a net worth of over $1 mln. 100,000 people took part in the research, and various lists of rich Russians were used to form the final list of respondents. The methodology and the results of the research were certified by the Sociology Institute of the Russian Academy of Sciences.

According to the results, 87% of the respondents read Vedomosti. The data was extrapolated on the general total of Russian millionaires (119 000 people in 2006). This is how the slogan figure was calculated.

According to the research, 78% of millionaires prefer to read Vedomosti in paper, 2% opt for Vedomosti website and 20% choose both versions.

"Promotion should not be typical. It should tell the audience about the product and be interesting enough to make be a news topic itself. I think we've managed to do that", - says Vedomosti marketing director Julia Selyukova.

"Now we know for sure that our audience exceeds 200 000 people. According to TNS Gallup Media, we have more than 100 000 readers, but there are millionaires whom Gallup cannot count for objective reasons" - declares the publisher of Vedomosti Michael Dubik.

The following advertising media were used for the campaign: 3x6 billboards, brandmauers in the center of Moscow, and advertising in business centers. Commercials are broadcast on Euronews, BBC and on the sports channels of NTV +.