MoiKrug and Vedomosti Became Partners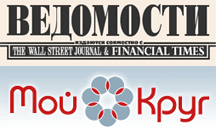 Users of the Yandex service MoiKrug.ru became full members of the Vedomosti Readers Club. Now MoiKrug users have access to all the functions of the newspaper website, including online discussions. All that is available without additional registration on
www.vedomosti.ru
.
The MoiKrug username, which is linked with the user's personal page, is displayed on the Vedomosti website upon any action of the user (for instance, when the user comments on articles). In addition, this July all the users of the MoiKrug social network have free access to the full electronic archive of Vedomosti.
"This joint project allows MoiKrug to strengthen its reputation in the business community, while Vedomosti gets an additional audience," says Ilya Shirokov, head of MoiKrug service. "MoiKrug is developing such services as job search, or interactive business contacts. We are sure they will be interesting to the users of the Vedomosti Readers Club".
"We are glad to offer our readers an opportunity of direct dialogue with MoiKrug users. No doubt that MoiKrug users will be happy to use the Vedomosti website without additional registration", says Victor Sakson, editor of Vedomosti.ru.
Vedomosti is a daily business newspaper, with a circulation of 75 000 copies. The leaders of international business-press Financial Times and The Wall Street Journal together with the largest Russian publishing house Independent Media Sanoma Magazines co-own the publication. Vedomosti newspaper was founded in 1999.
MoiKrug is the largest Russian-speaking social network for professionals. Hundreds of thousand of MoiKrug users use it to find friends, colleagues, jobs or employees. In March 2007 MoiKrug was bought by the Yandex Company and the founders of MoiKrug started to work for Yandex.